Birthday Reviews: Brenda Cooper's "Second Shift"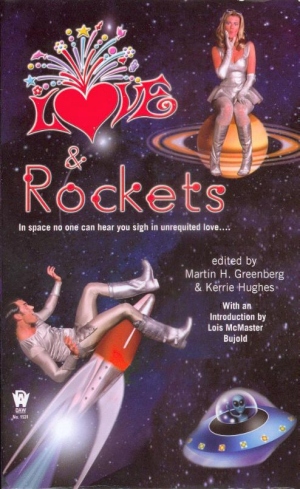 Brenda Cooper was born on August 12, 1960.
Cooper has won the Endeavour Award twice, for her novels The Silver Ship and the Sea and Edge of Dark. The latter was also a nominee for the Golden Duck Hal Clement Award while the former was nominated for the Philip K. Dick Award. Her short story "Savant Songs" was nominated for the Theodore Sturgeon Memorial Award. Cooper has collaborated with Larry Niven on both short fiction and a novel.
Cooper write "Second Shift" for the anthology Love & Rockets, edited by Martin H. Greenberg and Kerrie Hughes in 2010. In 2015, she included it in her collection Cracking the Sky.
Brenda Cooper looks at a strange form of love in "Second Shift." Lance Parker is on a solo mission to the asteroid belt to mine ore. Because such missions take so long, companionship is necessary to help the astronauts maintain a sense of sanity. To this end, Sulieyan and Kami have both been hired to maintain contact with him, in shifts, to provide Lance with the required human contact that a computer just can't provide.
Although the first rule is not to form a relationship with the astronaut, Kami and Lance have both proclaimed their love for each other, even as they realize that there is practically no chance of them ever meeting in real life. Lance's mission is a lengthy and dangerous one and for him Kami and Sulieyan are simply voices in an otherwise empty cockpit. The situation, however, doesn't make the feelings Kami has for him, or vice versa, and less real. Seeing what is happening, Sulieyan sends her grandson, Hart, to interview Kami for a newspaper article on love.
In a normal story, Hart and Kami would hit it off and Kami would transfer her affection to Suleiyan's son, however, in Cooper's story, Kami remains true to her distant and as yet unmet love. Her interactions with Hart are non-romantic, yet focus on a discussion of what love is and who Kami and Lance can be in love with each other despite the barriers places between them.