Birthday Reviews: Kara Dalkey's "Bouncing Babies"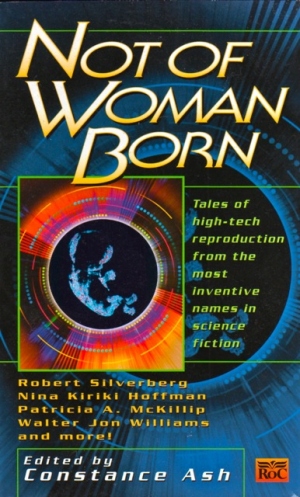 Kara Dalkey was born on November 4, 1953.
Dalkey was nominated for the Mythopoeic Award in 1989 for her novel The Nightingale, a retelling of one of Hans Christian Andersen's fairy tales in a Japanese setting. Ten years later her novel Heavenward Path was also nominated for the Mythopoeic Award for Children's Literature. She was also nominated for the James Tiptree Jr. Memorial Award in 2004 for her short story "Lady of the Ice Gardens."
"Bouncing Babies" was published in the anthology Not of Woman Born, edited by Constance Ash in 1999. The story has never been reprinted.
Although the people who live in the world of "Bouncing Babies" may see it as a utopia in which people don't have to worry about giving birth unless they want to and the need to work is obviated, it is also a world in which a person's worth is based solely on their ability to provide reproductive material. Teenage girls are genetically tested and if they prove to fit societal requirements are paid ten million dollars to have their eggs harvested, their genotype then used to determine their ability to fit into society.
Ms. Goodwin has long since had her eggs harvested and is living a life of luxury when she receives a notification to visit the Reprotec Bank. Not having any clue what they want to talk to her about, she goes in and discovers that her eggs are no longer genetically desirable. In fact, a child born from them was returned as defective by its parents. The bank has seized her assets to regain their investments and Goodwin realizes that she has nothing to fall back on.