Spotted in a Cairo Kiosk: Arabic Pulp Science Fiction!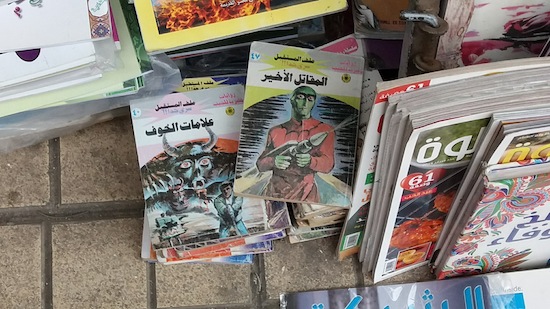 Here's a random treasure I noticed one day while strolling past my local kiosk in Cairo. These little books of science fiction and horror can still be found in Egypt, although they were more common back in the 90s when I first started coming here.
I'm not sure what they're called in Arabic, but in Spanish they're called bolsilibros ("pocket books"). These bite-sized paperbacks measure roughly 15 x 10 cm (6 x 4 inches) and run 90-120 pages. In Spain, the main genres were romance and western, although there were a fair number of horror, science fiction, war, and various other genres as well. Several publishers churned out a huge variety of lines. Now only a few reprints of the big western and romance writers can still be found at the kiosks.
In Egypt, judging from what I've unearthed in Cairo's wonderful used book market, the most popular bolsilibros were cop thrillers, although science fiction and horror appear to be the only genres that are still being published in that format. Other genres are now found in trade paperback, like the more serious science fiction.