Birthday Reviews: Donald A. Wollheim's "Blueprint"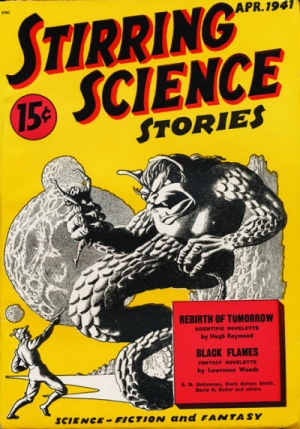 Donald A. Wollheim was born on October 1, 1914 and died on November 2, 1990.
Wollheim entered science fiction fandom at its birth and was responsible for a meeting in Philadelphia between New York and Philadelphia science fiction fans which is considered by some to be the first science fiction convention. He was a member of the Science Fiction League, founded the Fantasy Amateur Press Association (FAPA), and the Futurians. He was one of the Futurians not allowed into the first Worldcon as part of the "Exclusion Act." In the 1940s, he began working as an editor as well as a writer, editing for Avon Books and later Ace before starting up his own line, DAW Books. From 1965 through his death, Wollheim edited an annual World's Best SF anthology series.
In 1975, Aussiecon One, the 33rd Worldcon, presented Wollheim with a Special Award for being the "Fan Who Has Done Everything." Wollheim was inducted into the First Fandom Hall of Fame in 1975 Wollheim won a World Fantasy Special Professional Award in 1981 for DAW Books and a Special Convention Award in 1986. He also won the Milford Lifetime Achievement Award in 1980, the I-Con Award and Forry Award in 1987. He and his wife, Elsie, earned a British Fantasy Special Award in 1984. In 2002, he was inducted posthumously into the Science Fiction Hall of Fame and in 2010, SFWA awarded him the Solstice Award, which was accepted by his daughter, Betsy. Wollheim was the Guest of Honor at Nolacon II, the 46th Worldcon in 1988.
Wollheim used a variety of pseudonyms, including Martin Borrow, Graham Conway, Millard Verne Gordon, David Grinnell, Martin Pearson, Allan Warland, W. Malcolm White, and Lawrence Woods. He collaborated, as author and editor, with George Ernsberger, Forrest J Ackerman, Terry Carr, Arthur W. Saha, C.M. Kornbluth, Robert A. W. Lowndes, John Michel, and Lin Carter.