Birthday Reviews: Bill Pronzini's "Cat"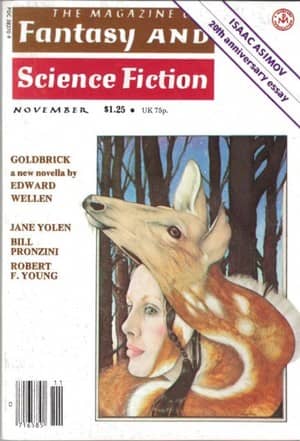 Bill Pronzini was born on April 13, 1943.
Although he has written significant science fiction, Pronzini is better known as a mystery author, specifically of the Nameless Detective series. He has also served as an editor on nearly 100 books, including some science fiction and fantasy anthologies, and occasionally with co-editors such as Martin H. Greenberg, Marcia Muller, to whom he is married, Ed Gorman, and others.
In 1981 Pronzini was nominated for the British Science Fiction Association Award for his story "Prose Bowl," co-written with Barry N. Malzberg. He received a World Fantasy Award nomination the following year for his anthology Mummy! A Chrestomathy of Crypt-ology.
"Cat" was originally published by Edward L. Ferman in the November 1978 issue of The Magazine of Fantasy and Science Fiction. It was reprinted in a Portuguese edition of the magazine within a few years and was also translated into Italian for publication in Urania.
Cat stories are ubiquitous in science fiction, enough so that Andre Norton was able to publish five volumes in her Catfantastic anthology series, and other authors have also published anthologies of feline science fiction and fantasy. Pronzini's "Cat," surprisingly, hasn't been reprinted in any of these anthologies. It is a sort of recursive science fiction, not in the usual sense, but because Benson, Pronzini's main character, not only reads science fiction, but refers to the stories, by author and title, giving shout-outs to multiple Fredric Brown stories, as well as works by E. Hoffman Price, Jerome Bixby, George Langelaan, James Thurber, and others.
The basic premise is that a cat has wandered into Bronson's house and he doesn't know how it got there. Allowing his imagination to run wild, Bronson begins to feel uneasy about the cat's presence, eventually turning to fear. Bronson's emotion and response to the cat builds quite rapidly, until he decides to shoot the animal.