Birthday Reviews: José Antonio Cotrina's "Between the Lines"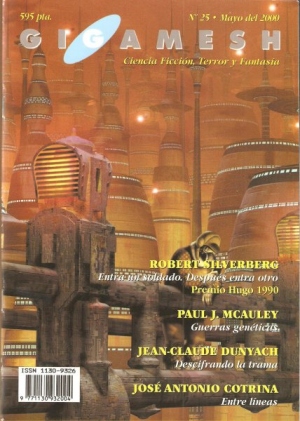 José Antonio Cotrina was born on July 8, 1972.
Contrina's novella "Salir de Fase" tied for the UPC Award for unpublished novella with Javier Negrete's "Buscador de Sombras" in 2000. Contrina was also nominated to the Premio Ignotus for "Entre lineas."
"Entre lineas" was published in Gigamesh, 25 in May 2000, edited by Julián Díez. In 2007, it was translated into English by James Stevens-Arce as "Between the Lines" and included in The SFWA European Hall of Fame: Sixteen Contemporary Masterpieces of Science Fiction from the Continent, edited by James Morrow and Kathryn Morrow.
Alejandro is studying advertising at university when he happens to walk into the wrong professor's office in "Between the Lines" and is informed that by doing so, he has enrolled himself in the course Advanced Reading Techniques, a class he has absolutely no interest in. Since he hasn't filled out any paperwork, he ignores the professor and continues on with his life, studies, and job, forgetting about the strange incident until he receives a letter from the university informing him that he has an incomplete in the class.
When he goes to protest, the professor insists that he is in the class and is required to do the coursework in order not to fail. He is given a copy of The Little Prince and goes off to read it, closely, and make notes about the book's text, the author, and anything else he can think of. When he returns to the professor to discuss the book, the professor throws aside his work, telling him that he hasn't read between the lines. Alejandro attempts to re-read the book and suddenly realizes that if he ignores the actual text, but looks at the negative space between the words, he can read a different book. Once he comes to this epiphany, he can't help but see the alternative text everywhere he looks. Cotrina opens up a whole new realm of literature, on par with Jorge Luis Borges's "The Library of Babel" with this version of reality.