Now Streaming: Better Off Ted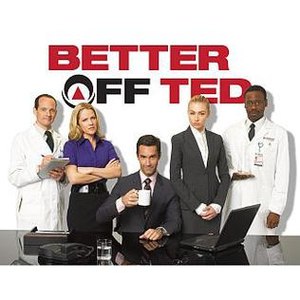 Better Off Ted was a workplace comedy that ran on ABC for two seasons from 2009 through 2010 for 26 episodes.  The series focused on Ted Crisp (Jay Harrington), a middle manager with something of a conscience trying to find the right balance between his conscience and fulfilling the needs of the soul-sucking international conglomerate he worked for.
Ted worked for Veronica Palmer (Portia de Rossi), who was all-in for the company, although it is not entirely clear that she draws a distinction between herself and the company, except when it serves her purposes. Ted oversees a couple of scientists who create the strange inventions the company, Veridian Dynamics, require, only rarely questioning if making things like a weaponized pumpkin means that they are mad scientists. The two scientists, Lem Hewitt (Malcolm Barrett) and Phil Myman (Jonathan Slavin) form an excellent comedy team, able to play off each other with either taking on the role of comic or foil (although Barrett tends to take the straight man role a little more often). Linda Zwordling (Andrea Anders) also works for Ted as a quality assurance analyst who views the scientists as nerds and fears Veronica's mercurial moods.
Although primarily a contemporary mainstream workplace comedy, Phil and Lem's inventions clearly have a science fictional element to them. In the first episode, the company decides the cryogenically freeze Phil and later episodes see the scientists creating a hover vest for children to wear (which, of course, would be a prototype for later military use). Veronica's first line is telling Ted that the company wants to make a metal that is hard as steel, can bounce like rubber, and is edible, to which Ted responds, "We can do that."