Beowulf: A New Telling — Almost Forgotten Childhood Classic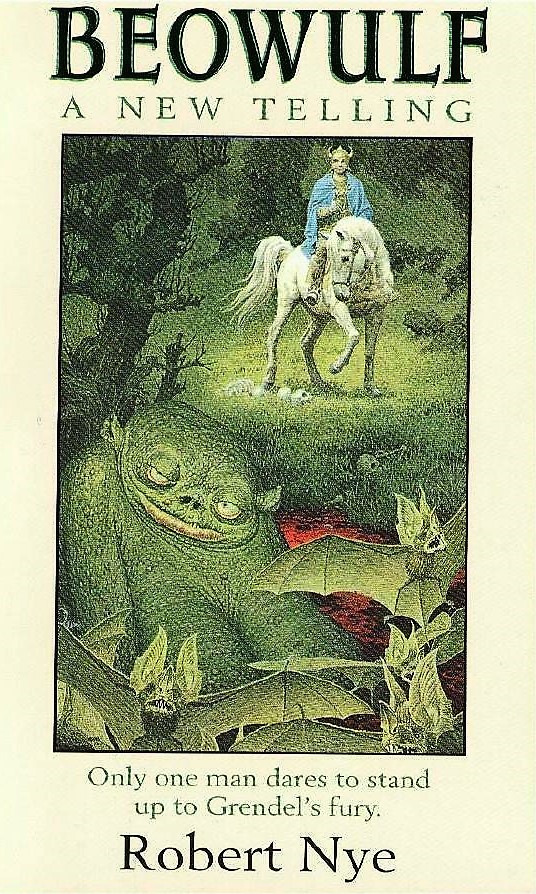 My formative reading years in late elementary school, that Golden Age of preparation to become an adult reader, contains a row of perennial favorites to which I've frequently returned. Madeleine L'Engle, Lloyd Alexander, John Christopher, Zilpha Keatley Snyder, John Bellairs, Robert C. O'Brien's Mrs. Frisby and the Rats of NIMH, and that's only getting started. But for mysterious reasons, one book often slips through the cracks of memory, even though it had an enormous influence on my later interests in history, literature, and myth: Beowulf: A New Telling by Robert Nye. When I do recall it from the marshland of childhood memory, its prose and images are as vivid as any other juvenile book I embraced in fourth and fifth grade. The pictures it conjured in my mind are the ones I still see when reading the original poem. There's no denying the quality of a work that had such a powerful effect on my conception of Beowulf.
When I recently picked up a copy of Nye's book, I discovered it retains its potency as both a great story and a reflection of the magic of the actual poem. Some of Nye' sentence structures are simplified for middle-grade readers, and his prose retelling can't match the authenticity or allure of an Anglo-Saxon epic poem composed over twelve hundred years ago. But its achievement as a short novel version of Beowulf impressed me enough on this re-read that I want to buy cartons of it and ship them to elementary schools. Hey, you kids who like Harry Potter! Here's a short fantasy book with three great monsters in it, and it's super violent and gory, but that's totally okay because it's a version of the first classic of English poetry. It's educational: your parents can't stop you! (Okay, I won't guarantee that last part …)
Beowulf: A New Telling was published in 1968, although it felt new when I first read it around 1982. A teacher had recommended the book to our class for extra credit and gave us a short summary of its background: a modern re-telling of a poem by an unknown author. The original was written in the foundling days of English, possibly the eighth century. I bought a copy at a school book fair, and my blood thrilled at the haunting cover: the hero astride a horse, riding into a damp fen aflutter with bats, the monster Grendel (or perhaps Grendel's Mother) lurking in the corner waiting for him.