Birthday Reviews: Suzy McKee Charnas's "Beauty and the Opéra, or the Phantom Beast"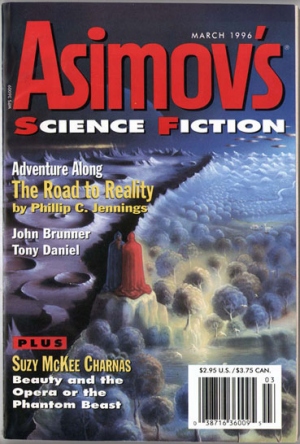 Suzy McKee Charnas was born on October 22, 1939
Charnas won the Nebula Award in 1981 for her novella "Unicorn Tapestry" and the Hugo Award in 1990 for the short story "Boobs." She is a three time James Tiptree, Jr. Memorial Award winner for the novels Walk to the End of the World, Motherlines, and The Conqueror's Child. Her series The Holdfast Chronicles is included in the Gaylactic Spectrum Award's Hall of Fame and she won a Mythopoeic Award for The Kingdom of Kevin Malone.
"Beauty and the Opéra or the Phantom Beast" was originally bought by Gardner Dozois and appeared in the March 1996 issue of Asimov's Science Fiction. Dozois reprinted it in Modern Classics of Fantasy the following year and Charnas included it in her e-collection Music of the Night and later in her collection Stagestruck Vampires and Other Phantasms. The story was nominated for the Hugo Award, the World Fantasy Award, The James Tiptree, Jr. Memorial Award, and the Theodore Sturgeon Memorial Award,
Charnas has decided to retell and expand on Gaston Leroux's The Phantom of the Opera, conflating it with Gabrielle-Suzanne Barbot de Villeneuve's Beauty and the Beast. While in the original story by Leroux, Christine is allowed to leave the Phantom, Erik, if she will return upon his death, in Charnas's story, she agrees to remain with him in return for his freeing Raoul, the French nobleman she loves.
The story follows the characters as they grow to know each other in the secluded apartments Erik has created for himself beneath the Paris Opera House. With Christine agreeing to stay with the Phantom while he agrees to release Raoul, the story takes a turn into Beauty and the Beast territory with Christine suffering from Stockholm Syndrome as Erik is the only person who she can interact with. As time progresses, Christine learns how to assert herself with Erik to in effect turn the tables on him. She is still essentially his captive, but she manages to obtain a level of control over the situation and him, eventually learning that while Erik spared Raoul, he also ensured that Raoul would never mount a rescue of her.