Random Reviews: "The Weather Master," by Arthur Cave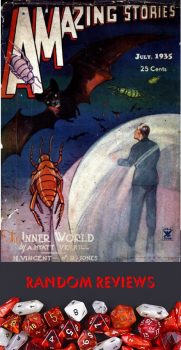 Arthur Cave's only science fiction story appeared in the July 1935 issue of Amazing Stories. The story looks into the far future of 1980 and while Cave depicts a few aspects of that distant year with some relative success, overall his view of the world seems grounded in a much simpler time.
"The Weather Master" was published in 1935 when the United States and the Soviet Union were engaging in cultural exchanges and an attempt to normalize relations and the Cold War wouldn't begin in earnest for another decade, Cave foresaw the tension between the superpowers. His 1980 sees a hot war between the two nations with Russia having wiped out the US air fleet and the President working with his War Council to come up with their next steps.
Those next steps involve Professor Wilton, America's leading (generic) scientist, who just happens to show up at the White House demanding an audience with the President, a demand which is granted, although the President only agrees to give him two and a half minutes. Wilton had spent the past two years incommunicado on an arctic expedition and was widely believed to have died. Instead, he has learned how to control the weather, which provides his answer to how to victoriously end the war with Russia.