Random Reviews: "Slaves of the Magic Lamp" by Anthony R. Lewis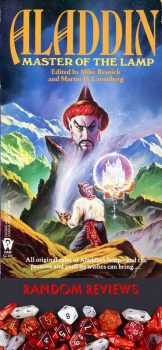 In November 1992, Disney released the animated film Aladdin, with Scott Weinger providing the title character's voice, Linda Larkin portraying his love, Jasmine, and the late and lamented Robin Williams voicing the Genie. About the same time, Mike Resnick and Martin H. Greenberg edited an original anthology designed to take advantage of Disney's new film. DAW Books published Aladdin: Master of the Lamp in December 1992, containing more than forty original stories by authors ranging from Janet Kagan and George Alex Effinger to Kate Daniel and Mark Aronson.
Atypical of most original anthologies, Aladdin: Master of the Lamp contains two stories each by Jack C. Haldeman II, Anthony R. Lewis, and Barry N. Malzberg. Lewis, who is best known as the Chair of twenty-ninth Worldcon, Noreascon, in 1970, and for the work he has done with NESFA Press, has also written several short stories, including "Fair Exchange," which opens Resnick's anthology, and "Slaves of the Magic Lamp," which appears about half-way through.
Lewis elects to structure his story as a tale within a tale, although it isn't clear that such a conceit is necessary, aside from playing homage to the version of the Aladdin story told in One Thousand and One Nights. In this case, the narrator is Lady Vashti, a cat/shapeshifter who exists outside the bounds of the physical world.