Birthday Reviews: Sarah Smith's "And Every Pebble a Soldier"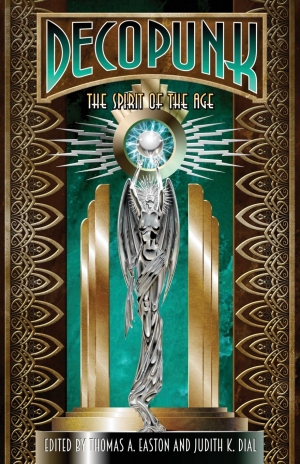 Sarah Smith was born on December 9, 1947.
Although Smith is best known for writing historical mysteries set in Boston, she has also dabbled in speculative fiction, writing the hypertext novel King of Space and more traditional SF novels The Knowledge of Water and The Other Side of the Dark. She won the Agatha Award and the Massachusetts Book Award for The Other Side of the Dark.
Smith wrote "And Every Pebble a Soldier" for the 2015 anthology Deco Punk: The Spirit of the Age, edited by Thomas A. Easton and Judith K. Dial, based on a comment by Dial that linked Art Deco to Nazism. The story has not been reprinted.
Set in the aftermath of a truly destructive war, the protagonist of "And Every Pebble a Soldier," a builder's apprentice, is one of the only men to come back from war. Determined to build something useful, he begins to make a clockwork man that will help him clean up the debris that litters his town. When he finds a paving brick used to mark the grave of a friend, he chips away a bit of the rock and incorporates it into the wind-up man, eventually repopulating the village's lost youth by creating an automaton with a piece of each one's gravestone.
While some in the town take an interest in his hobby, others mock him or are down-right hostile.  The village priest sees him as someone performing the Devil's work, as well as a threat to his own power in the Church. The apprentice persists, however, and slowly wins the town over as they begin to see his clockwork men as a way not only to repopulate the town, but to, in some way, bring their lost brothers and sons back to life.