Birthday Reviews: Nat Schachner's "Ancestral Voices"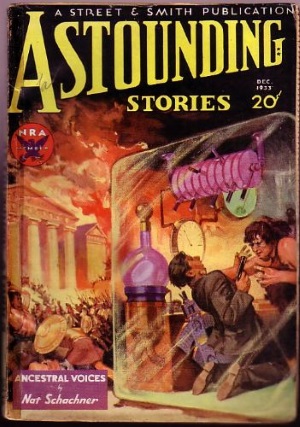 Nat Schachner was born on January 16, 1895 and died on October 2, 1955. Schachner was an attorney who began writing in collaboration with fellow attorney Arthur Zagat. After about a year working together, each man began writing solo, but after publishing science fiction for a decade, Schachner turned his attention towards biographies, focusing on early Americans.
"Ancestral Voices" was a solo effort published by F. Orlin Tremaine in the December 1933 issue of Astounding Stories.It has never been reprinted in English, although a French translation appeared in 1973 and an Italian translation ten years later.
Schachner opens "Ancestral Voices" with a brief look at several people for whom their ancestry helps define who they are in a very basic way, from a Hitlerian dictator of "Mideuropa" (although Hitler is also mentioned) to the crème-de-la-crème of Boston society, to an accountant who is convinced of his superiority over his boss because he is Anglo-Saxon rather than Spanish. Schachner also posits a boxing match between an Aryan champion, Hans Schilling and a Jewish challenger, Max Bernstein, clear stand-ins for Max Schmeling and Max Baer, who fought in the year the story was published.
The main thrust of the story, however, is the arrogant scientist Emmet Pennypacker, who has created a time machine. Denying his assistant any part of the glory, Pennypacker travels backwards in time, without knowing when or where he'll wind up. To his chagrin, he finds himself in Aquileia during the Hunnic attack of July 18, 452. Unable to return to his own time until the machine is ready to take him there, he winds up rescuing a Roman girl from her Hun rapist.
Although the idea of going back in time and stopping your parent from being born has become cliché, that is the scenario Schachner wrote. However, given the fifteen centuries that separated Pennypacker from his distant forebears, it means he eradicated the common ancestor of about 50,000 people living in the Twentieth Century.