Birthday Reviews: Alaya Dawn Johnson's "Far and Deep"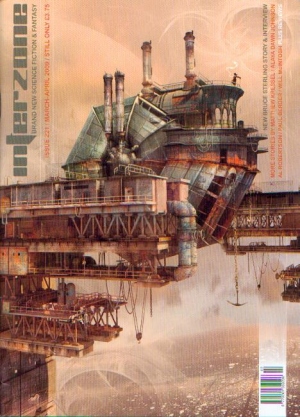 Alaya Dawn Johnson was born on March 31, 1982. She began publishing in 2005 with her story "Shard of Glass." Her first novel, Racing the Dark, appeared in 2007. She was a Guest of Honor at Wiscon in 2015 and the convention published the guest of honor book, Metamorphosis, containing works and interviews with Johnson and her co-guest of honor Kim Stanley Robinson.
In 2015 Johnson won the Nebula Award for Best Novelette for "A Guide to the Fruits of Hawai'i" and the same evening won the Andre Norton Award for Best Young Adult Novel for Love Is the Drug. The year before, she also had nominated work in each of those categories. Johnson's fiction has been nominated for the James Tiptree, Jr. Memorial Award, the Theodore Sturgeon Memorial Award, and the Carl Brandon Award.
"Far & Deep" was published in the March-April 2009 issue of Interzone, edited by Andy Cox, Andy Hedgecock, and David Mathew. It has not been reprinted.
The story is set on an unnamed Polynesian island and opens with Leilani discovering that her mother, Pineki, has been murdered. In her mourning, Leilani approaches the Council of Elders, of which her mother was a member, and is told that she will be denied a traditional funeral because of unspecified crimes she had committed.
It is clear that Pineki was not well liked on the island, although she didn't care. Leilani must not only come to terms with her mother's death, but also the way the other islanders perceived Pineki. In the few thousand words Johnson uses to tell the story, she manages to briefly tackle the questions of people who commit taboo behavior in a small community, the sense of filial love and duty, and the need for individuality in a society which demands at least of modicum of conformity. Despite Pineki's position on the Council, she was seen as an outsider by the Council, who viewed her murder as the opportunity to get rid of a problem, rather than a crime that should be explored and punished. Leilani, who lost her parent, challenges the Council, an act worthy of her mother.