Birthday Reviews: Stephen Robinett's "A Penny's Worth"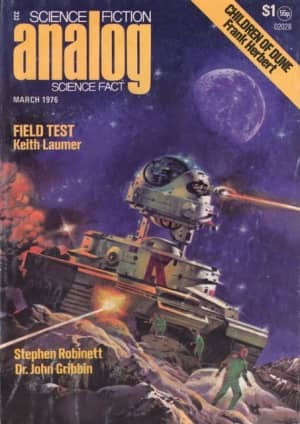 Stephen Robinett was born on July 13, 1941 and died on February 16, 2004.
Until 1975, Robinette published using the name Tak Hallus. Although he has mostly used his own name since then, in 1976, he published the novel Mindwipe! using the pseudonym Steve Hahn.
"A Penny's Worth" appeared in the March 1976 issue of Analog, edited by Ben Bova. It was the story's only appearance.
Robinett created the lawyer Harry Penny for the story "A Penny's Worth," and Penny finds himself hired by a graduate student, Marshal Pierce, to defend Pierce against assault and battery charges. Although Pierce claims no recollection of assaulting Dr. Charles Morrow, there are two witnesses, Morrow's wife and a neighbor, who saw the attack. The story follows Penny as he interviews witnesses and others with ties to Pierce and Morrow, to figure out what happened. The story is engaging, although the solution is telegraphed rather early on.
While Morrow and Pierce don't know each other, there are several links between the two. Pierce worked as a graduate student for Ray Winslow, Morrow's former, and now dead, partner. At one time Harry dated Nora, who went on to marry Winslow before leaving him for Morrow. Vernon Vernon, Pierce's boss who fired him for stealing something after Winslow died, although Pierce claims he had Winslow's permission to take it, also has ties to Morrow. What is clear to the reader from early on is that the medication Winslow had Pierce take somehow makes Pierce seek out Morrow to get vengeance for what Morrow did to Winslow.
Sometimes, however, plot isn't the most important thing and so knowing the solution, rather than spoiling the story, provides a sense of foreshadowing. What caused the attack in this case is less important than Penny's way of finding out what the reader has already figured out. His interviews with Nora, Morrow, and Vernon and his instructions to Pierce to help the boy avoid prison time for assault or worse, are the keys to the story and make it a very entertaining piece of fiction. Penny and his world seem as if they were developed to be an ongoing series, and Robinett would return to the character the following year in the novella "The Man Responsible."