Birthday Reviews: Emma Bull's "A Bird That Whistles"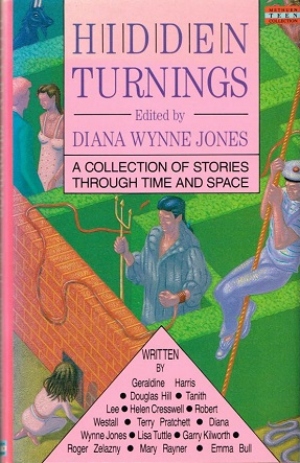 Emma Bull was born on December 13, 1954.
Bull's novel Bone Dance was nominated for the Hugo, the Nebula, the World Fantasy, and the Philip K. Dick Awards. Her novel War for the Oaks was nominated for the Compton Crook Stephen Tall Memorial, the Geffen, the Mythopoeic, and the William L. Crawford – IAFA Fantasy Awards. She received a second Nebula nomination for the story "Silver of Gold," a second Mythopoeic nomination for The Princess and the Lord of Night and additional World Fantasy nominations for Liavek: The Players of Luck and Territory. She is married to Will Shetterly, with whom she has collaborated on fiction and as an editor. She has also collaborated with Steven Brust, Elizabeth Bear, and Leah Bobet.
"A Bird That Whistles" appeared in the anthology Hidden Turnings, edited by Diana Wynne Jones in 1989. Ellen Datlow and Terri Windling selected it for inclusion in The Year's Best Fantasy and Horror: Third Annual Collection. The story was reprinted in the Shetterly/Bull collection Double Feature, published by NESFA in 1994. In 2004 Patrick Nielsen Hayden included the story in his anthology New Magics: An Anthology of Today's Fantasy.  The story also appeared in the 2011 book The Urban Fantasy Anthology, edited by Peter S. Beagle and Joe R. Lansdale.  In 1994, Alice Bellagamba translated it into Italian for the anthology Miti fiabe & guerrieri and the story was also translated for the French anthology Traverses in 2002.
John Deacon is a 17 year old banjo player who is starting to appear at open mic nights at Chicago's Orpheus Coffeeshop. Deacon is not a very strong performer and lacks confidence, yet he is willing to get on stage. At the same time, he has developed a crush on Orpheus waitress Lisa Amundsen. One day, while waiting for his name to be called up, he strikes up a conversation with Willy Silver, a dulcimer player. Silver proves not only to be willing to mentor Deacon and teach him new methods of playing his banjo, but also a rival for Lisa's affection, although Lisa has never shown more than a friendly inclination toward Deacon and he's too shy to act on his infatuation.
Set in the 1970s, the story has a background of the unrest against the Vietnam War and comes to head during a march against the war when Deacon is attacked in the Orpheus' parking lot. Knocked down and bleeding, he is waiting for a continued attack that never comes. Looking up, he finds Silver looking fearsome with red lights in his eyes and his attackers fleeing. After giving Deacon advice, Silver disappears, having protected and nurtured the young musician. In return Deacon gave Silver some questions to think over.