New Treasures: Terminated by Rachel Caine
New Treasures: Terminated by Rachel Caine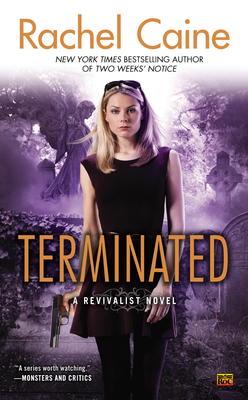 I first discovered Rachel Caine a decade ago with her intriguing first novel, Ill Wind, which followed the adventures of Joanne Baldwin, a Weather Warden, part of an international organization that tracked and confronted natural disasters head-on. Kind of an intriguing premise and I was impressed to see it become the first installment in a nine (nine!) volume series, the most recent being 2010's Total Eclipse.
Now, if I had written nine novels in seven years, first thing I would do is find a soft couch and lie down for, I dunno, maybe the rest of my life. Not so with Rachel Caine, however. No, she elected to start another series, The Morganville Vampires (fifteen volumes in seven years) in 2006. Followed by another one, Outcast Season (four volumes in three years) in 2009, and then another, Revivalist (three volumes in two years) in 2011. For those keeping score at home, that's 31 novels in the last decade, during most of which she also had a full-time job as a Communications Director (writing, in other words).
I could go on — there are four more novel series, and several standalone books itemized on her Wikipedia page — but, man. I'm exhausted just trying to keep up. How does she do it?
Her most recent release is the third in her Revivalist series. The opening novels, Working Stiff and Two Weeks' Notice, introduced us to Bryn Davis, killed on the job after she discovered her employers were designing a drug to resurrect the dead. Brought back to life by the same drug, she became a soldier in a nasty corporate war against her previous employer.
Already addicted to the pharmaceutical drug that keeps her body from decomposing, Bryn has to stop a secretive group of rich and powerful investors from eliminating the existing Returné addicts altogether. To ensure their plan to launch a new, military-grade strain of nanotech, the investors' undead assassin — who just happens to be the ex-wife of Bryn's lover Patrick — is on the hunt for anyone that stands in their way.

And while Bryn's allies aren't about to go down without a fight, the secret she's been keeping threatens to put those closest to her in even more danger. Poised to become a monster that her own side — and her own lover — will have to trap and kill, Bryn needs to find the cure to have any hope of preserving the lives of her friends, and her own dwindling humanity…
Terminated was published today by Roc Books. It is 320 pages, priced at $7.99 for both the paperback and the digital edition.