New Treasures: Tim Waggoner's The Nekropolis Archives
New Treasures: Tim Waggoner's The Nekropolis Archives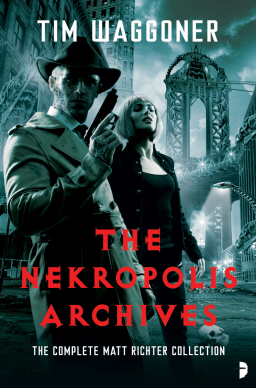 On Tuesday I wrote about Dead Mann Running, the second volume of Stefan Petrucha's zombie detective series. As I mentioned at the time, it wasn't the only zombie detective novel I was going to cover this week. For those of you I've kept in suspense all week, I can finally reveal that Tim Waggoner's The Nekropolis Archives is the second.
I was pretty busy manning the Black Gate booth at Worldcon two weeks ago, and didn't have much time to venture forth and explore the rest of the cavernous dealers' room. But when I learned that Angry Robot had a booth, I left Tina Jens and S. Hutson Blount in charge of my stack of magazines and went in search of it. Angry Robot has published some of the most exciting new SF and fantasy in the past two years, and best of all, they've been doing it in attractive and inexpensive paperbacks.
Their booth did not disappoint. Not only did I get to meet North American Sales Manager Michael R. Underwood, whose debut novel Geekomancy was a highlight of my Wiscon reading circuit, but — just as I expected — I discovered a fabulous array of exciting new fantasy titles. I was especially taken with their omnibus editions: fat, 900+page trade paperbacks collecting Andy Remic's The Clockwork Vampire Chronicles, Aliette de Bodard's three-volume Aztec Mystery series Obsidian and Blood, and Tim Waggoner's The Nekropolis Archives.
Priced at just $15.99 each, all three are terrific bargains. But it was Tim Waggoner's The Nekropolis Archives that drew my eye first:
Meet Matt Richter. Private Eye. Zombie.

His mean streets are the city of the dead, the shadowy realm known as Nekropolis. You've got to keep your head in Nekropolis. But when you're a zombie attempting to battle the vampire lords, that's not as easy as it seems…

This massive omnibus edition collects all three Matt Richter novels – Nekropolis, Dead Streets and Dark War – plus a swathe of short stories too.
Sounds like exactly what I've been looking for to cuddle up with under my blanket on windy autumn nights in Chicago. The Nekropolis Archives is $15.99 for a handsome 907-page trade paperback, or just $6.99 for the Kindle version. It was published by Angry Robot on April 24, 2012.