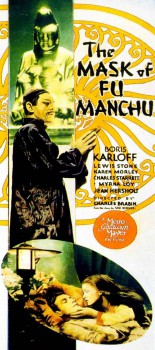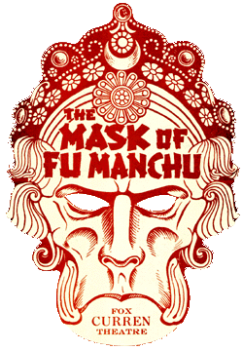 Sax Rohmer's The Mask of Fu Manchu was originally serialized in Collier's from May 7 to July 23, 1932. It was published in book form later that year by Doubleday in the US and the following year by Cassell in the UK. It became the most successful book in the series thanks to MGM's cult classic film version starring Boris Karloff and Myrna Loy that made it into theaters later that same year.
The third part of the book sees Sir Denis Nayland Smith, Dr. Petrie, Sir Lionel Barton, and Shan Greville make their way to the Great Pyramid where Sir Lionel will hand over the relics of El Mokanna to Dr. Fu Manchu in exchange for the release of his niece, Rima, who is being held hostage. Sixty Egyptian police officers are employed to surround the Great Pyramid in an effort to bring Fu Manchu to justice and to aid the others in the event they are walking into a trap. Sir Denis insists that Petrie and Barton stay behind while he and Greville make their way to the King's Chamber, the arranged meeting place.
Rohmer wrings every last bit of suspense from Smith and Greville's descent into the King's Chamber. Having actually made the journey himself prior to writing the book enabled him to perfectly capture the claustrophobic anxiety of his heroes' predicament. Upon arriving in the King's Chamber, they find Dr. Fu Manchu awaiting them. The fact that he handles the matter in person without any bodyguards emphasizes the new strength and confidence with which Rohmer has imbued the character now that he has at last perfected the elixir vitae.
---