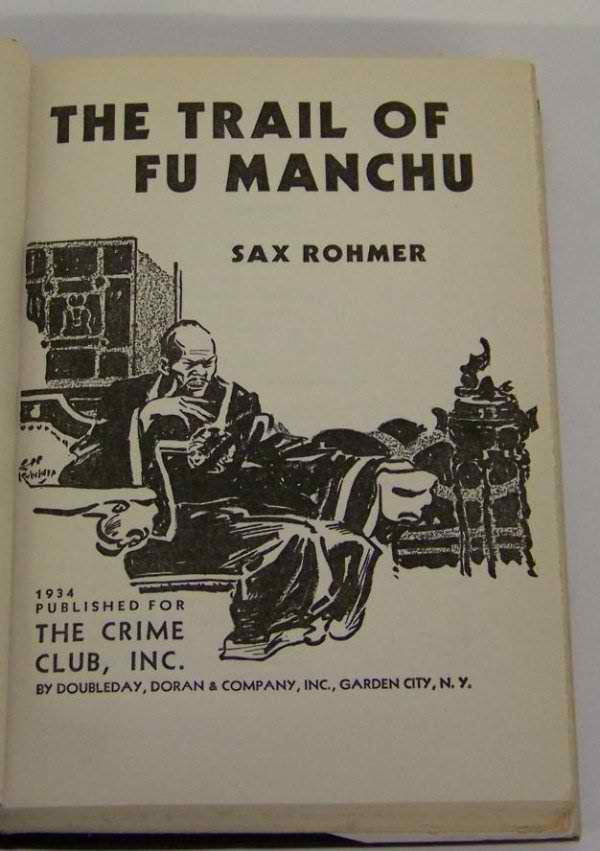 Sax Rohmer's The Trail of Fu Manchu was originally serialized in Collier's from April 28 to July 14, 1934. It was published in book form later that year by Cassell in the UK and Doubleday in the US. The book marked the first time Rohmer employed third person narrative in the series and dispensed with the first person narrative voice modeled on Sir Arthur Conan Doyle's Sherlock Holmes stories. The results dilute what would otherwise have been a stronger novel that saw the series return to its roots.
The book gets off to an atmospheric start on a foggy night in London, where a lone constable is standing guard outside Professor Pietro Ambroso's art studio. He catches a glimpse of a shambling figure approaching the studio several times, but the crouching man eludes capture. A woman's cries for help send the constable away from his post to investigate, but he finds no one. When he returns to his post, he finds the front door to Professor Ambroso's studio open and upon investigating finds the studio deserted.
The scene shifts to Scotland Yard, where Sir Denis Nayland Smith is in conference with Chief Inspector Gallaho, who succeeded Inspector Weymouth after the latter became Police Superintendant in Cairo. The reader is somewhat surprised to learn that Professor Ambroso is also the focus of their concern. The Professor has attained fame as an artist and sculptor. His latest work is The Sleeping Venus, a stunningly beautiful porcelain nude. Ambroso had requested police protection upon his arrival in London.
---