Lee Kemp Reviews Writing Fantasy Heroes: Powerful Advice from the Pros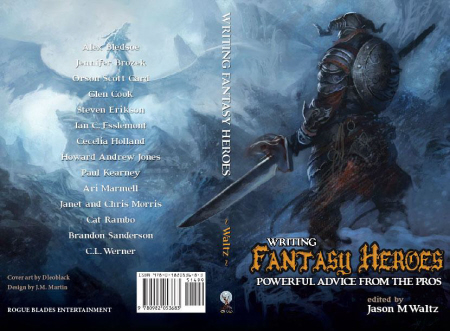 Writing Fantasy Heroes: Powerful Advice From the Pros
Edited by Jason M. Waltz
Rogue Blades Entertainment (202 pp, $14.99, trade paperback, February 2013)
Editor Jason Waltz has assembled the thoughts and musings of seasoned fantasy writers who examine the art and science of heroic character creation. The book sets out to identify those ingredients that make heroes, monsters, battles — and the universes that contain them — come alive to the reader.
Targeting aspiring writers and general fans of fantasy, the book seeks to engage both groups through a blend of philosophical insights and practical writing advice. General themes and topics covered include an existential overview of the heroic character (i.e., a look inside the hero's soul, will, emotions, motivations, and maturation), insights into the creation of a heroic character, and general advice for the beginning fantasy writer. (e.g., writing cinematic fight scenes, creating realistic battles, crafting descriptive universes, and others). The book concludes with short biographies for each contributing author and a select listing of their works.
Waltz assembles a terrific group of established and successful writers for this book. The contributing authors know, from experience, the level of excellence required for publication. Their essays reflect this experience and provide valuable coaching for those who choose to willingly read, absorb, and apply.