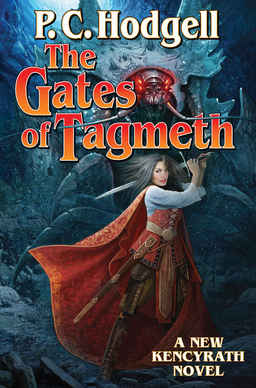 Fletcher Vredenburgh has been steadily reviewing P. C. Hodgell's Chronicles of the Kencyrath series here at Black Gate. In his article on the opening volume, God Stalk, Fletcher wrote:
Out of the haunted north comes Jame the Kencyr to Rathilien's greatest city, Tai-Tastigon. From the hills above, the city appears strangely dark and silent. She arrives at its gates with large gaps in her memory and cat claws instead of fingernails. She's carrying a pack full of strange artifacts, including a ring still on its owner's finger… and she's been bitten by a zombie. Wary, but in desperate need of a place to heal, Jame enters the city. So begins God Stalk, the first book in P.C. Hodgell's Kencyrath series and one of my absolute, bar none, don't-bother-me-if-you-see-me-reading-it, favorite fantasy novels…

I'm so grateful Carl gave me this book thirty years ago. P.C. Hodgell seems so far below the general fantasy radar, I don't know if I would have ever heard of her at all, which is pretty darn shameful.
You can read his compete review here.
Fletcher wrapped up with volume 7, The Sea of Time, back in December, writing,
Now I, and every other fan of Hodgell's, will have to wait nearly a year for the next volume, The Gates of Tagmeth… It's taken over thirty years to get to this point, so I guess I can wait another eight months.
The Gates of Tagmeth arrived in trade paperback from Baen right on time on August 1st. I'm looking forward to Fletcher's review, but you can get the jump on him by ordering a copy today. Here's the description.
---